In the 80's,  a study program was written for native people in Canada. There was no internet  There were almost no phones.  Member interaction was impossible   Courses were mailed  to isolated villages.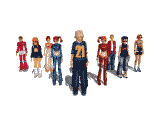 Student Interaction is Important.
Only one or two students studied in a village.
Clergy were teachers.
Notebooks contained homework,  Course material  was in simple books.
Interaction was over short radio.
Wealthy Affiliate  helps members from around the world interact with each other to learn.
Course Discussion
 There is some discussion after every lesson at WA. Students asks questions. Practical work is discussed.     After lesson discussions look like the conversation  below.  Member interaction helps everyone keep up.
In discussion after classes, questions or responses are for everyone.
Live Chat
Live chat is mentioned several times on this site.  It  is live. Members ask questions. They share worries.  They share successes.  Theyre talk about life.
N0 profanity, insulting or lewd remarks are allowed in chat.
In chat, people can respond to one person.  The whole chat sees the response.
In chat, a private message can be sent or span at the action button.  Contributors in any chat have an "icon" that shows it them.
Questions and Answers
Questions create community interaction.  Members answer sharing expertise.
The "search bar" connects members.        
Each premium member  "question box."  is good for more detail questions.  A classroom can be chosen to see the question.
Members soon learn who has what expertise.  They ask all kinds of questions.
Shared Posts and Follows
Premium members have tools for interacting with other members.
These tools track referrals and organize conversations
                                      refer  follow talk   pm   write rank  me
Tools place information in an account page, a classroom or an email.
The main writing tools for member are in a drop down under the pen.
Why is Member Interaction Important
Interaction Builds the WA Community
   As people talk, they get to know each other.   People look for WA friends at certain times in the live chat.  Emails from friends are read first.  A "thought of the day" post my be something someone waits for.  Every member is different.  A community is people relating.

Interaction Teaches
Here are a few trainings posted  one day.
Members Learn through trainings daily.   Everyone may not need every training, right now.  But chances are, they will.
Interaction Supports Members.
Members of the WA community have the same problems as everyone else.
I don't have enough time to work on a website.
I don't know enough about it to work on a website.
I get ill and can't do very much.
I don't have enough money.
My family thinks that affiliate marketing is stupid.
I have been working at WA for 3 weeks and haven't made money.
Community members don't judge.  They support.  No matter what circumstance someone has something to offer.
Wealthy Affiliate offers education and support by helping members interact.
Take a moment to share you thoughts on what you read here in the comment box of the home page.  When does interacting with others help what you are doing.  Do you have a good support system at work?  Could good training and good support help you build a successful online affiliate marketing business?